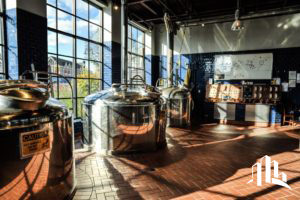 Greenville Based SperryCGA-Griffin Partners Wins Exclusive Deal to Sell Award Winning Brewery
Greer, SC April 11, 2019
Mark Griffin, CCIM and Chris Springfield, PMP of SperryCGA-Griffin Partners presents a rare opportunity to acquire an established Carolinas brewery business. The brewery is located in a prime market of the Carolinas and has won and received many accolades and awards for several of its brews. This brewery is a boutique concept, but with reach across several states. The ideal acquisition candidate will be a beer enthusiast/investor looking to expand their portfolio or a larger craft beer conglomerate looking to add to their territory or brand options.  The brewery has a specific following and is prime for major expansion. The brewery is being offered at $1,350,000 which includes the real estate.
Please contact Chris Springfield or Mark Griffin at 864-315-3734 if interested. Mark Griffin is CEO of SperryCGA-Griffin Partners and has over 18 years of progressive commercial real estate and business brokerage experience. Chris Springfield is Vice President of Business Brokerage and has over 20 years of experience in building, running, and selling personal businesses as well as extensive experience in general commercial and business brokerage for clients located throughout the Carolinas and Georgia.
About Sperry Commercial Global Affiliates, LLC: Sperry Commercial Global Affiliates, LLC offers the highest level of commercial real estate services available through thoughtful, cooperative, and ethical practices. The firm is headquartered in Irvine, CA, and combines more than 200 sales professionals and 32 affiliate operations across 34 offices throughout the United States. For more information, visit www.sperrycga.com.
Sperry Commercial Global Affiliates-Griffin Partners, previously Griffin Property Solutions, is positioned in the Upstate of South Carolina and primary serves the markets of Greenville, Spartanburg, and Anderson while also working on deals consistently throughout the Carolinas and Georgia. Please contact us if we can be of service for any of your commercial real estate or business brokerage needs.