Sperry Commercial Global Affiliates is a network of commercial real estate affiliates dedicated to delivering strategic and targeted solutions to clients around the globe. SperryCGA believes that the commercial real estate industry is an ever evolving, ever changing market sector. To achieve the highest level of success for our Clients, we must be able to efficiently manage their diverse and complex needs.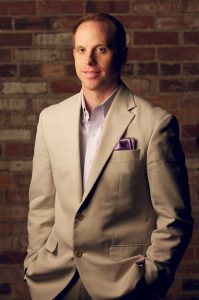 Mark Griffin, CCIM is Principal and CEO at SperryCGA-Griffin Partners. He is a native of upstate South Carolina with over eighteen years of progressive commercial real estate experience from land development consulting to investment advisory and general brokerage and a graduate of Clemson University.
Prior to moving back to his hometown of Greenville in 2009, Mr. Griffin spent over nine years in the Atlanta market where he worked with some of the top names in the region. After moving back to Greenville,  Mr. Griffin spent several years with another commercial real estate firm serving clients in retail, industrial, office and business brokerage prior to launching Griffin Property Solutions in 2012.  After over five years of building a successful, independent commercial real estate brand in 2018 Mr. Griffin decided it was time to affiliate with a global brand to better serve their clients within and outside of the upstate.
With initial interest from several national firms looking to expand within and into the upstate market, it was an easy decision that the Sperry Commercial Global model was the right partnership and Griffin Property Solutions becomes SperryCGA-Griffin Partners. Griffin and his professional team bring decades of progressive real estate, brokerage, development, investment advisory and management experience to the table backed by the Sperry Commercial brand, one of the most respected globally for over 40 years.
Office: 864-315-3734
Direct: 864-525-8562
mark.griffin@sperrycga.com
STRIVING FOR EXCELLENCE WITH EVERY COMMERCIAL PROPERTY AND BUSINESS WE REPRESENT
"When it comes to commercial real estate we are truly the experts. We are also experts in investment and business brokerage services in many other markets thanks to many great clients their desire to hire an experienced, aggressive, and responsive team with the resources to get their property or business noticed.  For years Griffin has provided a full range of services to local, national and international clients. If you need to find a new location, fill vacant space, buy or sell a building, extract value from a portfolio, or simply looking for returns greater than that of the stock market, we have the expertise to support all your commercial real estate needs. Our team backed by local knowledge and global exposure, will pay dividends to you or your organization.  Even though we are based in the upstate, we list businesses and commercial income properties throughout the Carolinas and Georgia. Call us today for a one on one meeting to discuss your needs at 864-315-3734. Our track record as top business and commercial re brokers in the Carolinas and Georgia speaks for iteself.  We look forward to hearing from you!"

-Mark Griffin, CCIM / Principal and Broker-In-Charge