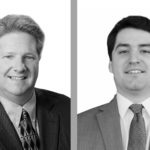 September 10, 2019
SperryCGA-Griffin Partners announces that Russ Kelly and John Kawalchuk have advanced within the firm to Full Associate status. Russ Kelly joined Griffin Partners in March of 2019 and focuses on industrial flex and office owner and tenant rep. John Kawalchuk joined Griffin Partners in early 2019 and specializes in investment sales and capital advisory and development services.
About SperryCGA-Griffin Partners
Sperry Commercial Global Affiliates-Griffin Partners, previously Griffin Property Solutions, is an affilaite of Sperry Commecial Global with offices throughout the US and abroad. Griffin Partners has corporate offices in upstate South Carolina and Atlanta, GA and serves clients through the upstate as well as Georgia and North Carolina in commercial real estate investment sales, leasing and capital advisory, business brokerage, and tenant representation. Owned by 15 year commmercial real estate veteran Mark Griffin, CCIM a native of upstate South Carolina. Local reach on a global scale.